MAKING PEOPLE-CENTERED JUSTICE WORK

8-10 February 2021

ONLINE EVENT
Avec plus de dix ans d'expérience et d'expertise dans le soutien aux innovations en matière de justice, HiiL a recueilli des informations importantes sur le type d'innovations qui changent les règles du jeu – les possibilités de perturbation qui sont durables, évolutives et celles qui ont le potentiel pour attirer les investissements.
Le Forum 2021 s'appuiera sur les recherches de HiiL sur les éléments qui changent les règles du jeu et travaillera avec les partenaires et les parties prenantes sur la manière d'intégrer ces solutions dans le système judiciaire et de les faire évoluer.
The speakers will be announced soon.
You can find regular updates on speakers, programme and other information in the Updates section.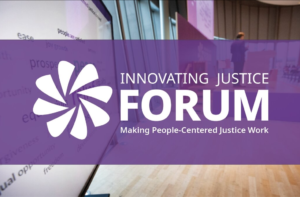 Rendre une justice axée sur les personnes Du 8 au 10 février 2021, l'Institut de La Haye pour l'Innovation du Droit (HiiL) a accueilli des
Read More
Watch the video from the Innovating Justice Forum 2020